LTA Agency have arranged Kenya's women's national team (Harambee Starlets) participation in the XXXIII COTIF International Tournament in l'Alcudia, Valencia, Spain.
It was the 5th time COTIF organized the women's tournament held along with one of the most prestigious men's Under-20 tournaments in the world earlier this month. It was Kenya's women's national team first ever tournament in Europe, and it served as part of the preparation for the 10th CAF Africa Women Cup of Nations, which will take place in Cameroon from 19th November to 3rd December this year.
Harambee Starlets have qualified for the continental final tournament for the first time in their history eliminating Algeria in the play-offs. They fared quite well in Spain and finished 4th after winning two matches against the champions of Portugal, Benfica and Spanish side Espanyol de Barcelona. Head of women's football at Football Kenya Federation, Doreen Nabwire, was satisfied with Starlets' showing in Valencia.
Last year, LTA Agency arranged participation of Namibia Women's National Team in the same tournament, COTIF 2015.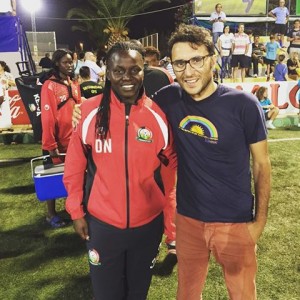 Starlets' COTIF 2016 results:
Sunday 31 July: 3-0 win over Benfica (Esse Akida hat trick) – COTIF invitational round 1
Tuesday 2 August: 3-1 win over Espanyol (Esse Akida x 2, Neddy Atieno) – COTIF invitational round 2
Wednesday 3 August: 2-0 loss to Real Betis – COTIF invitational semis
Thursday 3 August: 3-1 loss to Espanyol – COTIF invitational playoffs
Tuesday 9 August: 2-0 loss to Levante UD – friendly