Cote D'Ivoire international, Ange Koko N'Guessan has signed a deal with Spanish powerhouse FC Barcelona.
The 25-year old winger comes from the top division in Cyprus, where she earned 2015-2016 bronze medal and finished as best goalscorer at Anorthosis Famagusta.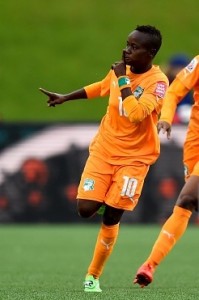 Prior to Cyprus, Ange Koko played for perennial Lithuanian champions FK Gintra-Universitetas helping them win the 2015 League title and take part in 2015-2016 UEFA Women's Champions League preliminary round. In the same year, Ange Koko represented her country in the historic first appearance at the group stage of the FIFA Women's World Cup final tournament in Canada scoring two goals in the process.  While playing for her national team, she also won the bronze medal at the African Games held in Congo in 2015 and another bronze at the 2014 CAF Africa Women's Championship in Namibia.
Ange Koko won the Cote D'Ivoire national championship in 2011/12 and 2013/14 and was also the nation's cup winner in 2011 with her first club Omness de Dabou.
LTA Agency wish Ange Koko a very good season and the best of luck at her new club.