Zenatha and Thomalina won the 2015-2016 Lithuanian Women's Cup after winning every single game.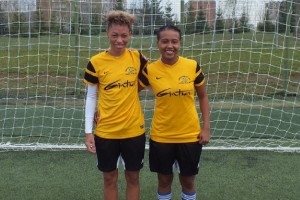 Both players featured in every Cup match including the final won by their FK Gintra-Universitetas team in style – 10:0 over LSU-Žara.
Prior to joining Gintra, the two Namibian internationals won their home country's Women's Super League defending the colors of Tura Magic FC. Thomalina proved key with her signature crosses and surging runs from the right wing, while Zenatha was amongst the top goal scorers with an incredible tally of 53 goals in 18 matches.
The duo continued their winning streak at Gintra, which has dominated women's football in Lithuania, winning the A Lyga for the past 11 years in a row. The next challenge for the players will be UEFA Women's Champions League preliminary round as Gintra are scheduled to take on the Champions of Kazakhstan, Ireland, and Moldova at the end of August.