Swedish Champion, US W-League Champion and Spanish Cup Winner are some of the achievements of Verónica Boquete Giadáns over the years. Now she will add UEFA Women's Champions League winner medal to her titles, one of the most prestigious trophies in women's football.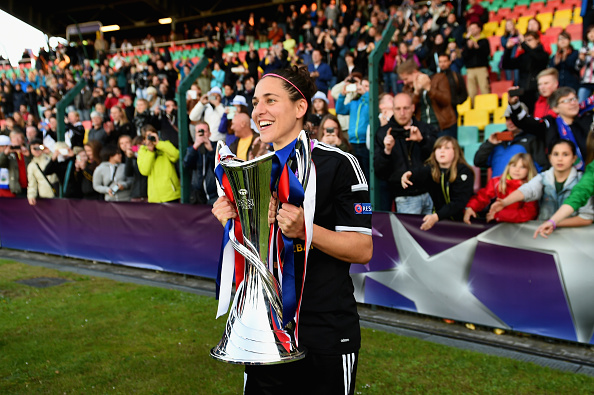 This year as a member of FFC Frankfurt, she played key role in the midfield line. Vero has shown consistency and was instant choice in starting eleven the whole season. On their road to the final match against Paris Saint-Germain, FFC Frankfurt haven't lost a single match in the Champions League. They increased their individual performances and the synergy of the whole team every match during the season.
Vero played with injured foot the entire final match like a true warrior. In the match that ended in dramatic fashion, Frankfurt opened the scoring in the first half before PSG leveled at 1-1 eight minutes later. The result stayed the same almost until the end of the match, with Frankfurt managing to get the winner in the added time to win 2:1. After the match Veronica shared a few words.
"It means the world to me. I've been fighting so long to win this trophy, and after last year, which ended in tears, this was more special. And it means that I made the right decision coming to Frankfurt. And it also means that you always have to come back and keep trying and dreaming big. I think the team felt strong, and we saw during the game that they were no better than us, and we felt that in some moments we could hurt them. So we just waited for our moment, and thank God, or thank I don't know who, the goal came in the last minute. It is always more special to score a late winner, because there is so much tension. Everyone is waiting a bit for extra time, and I think that the team believed we would finish it in the 90 minutes. So it's also special for me, because always in the big games that I am in, something happens in the last minute – that made me believe until the end."

Manager of number of different super stars in the women's football world, such as Caroline Seger, Verónica Boquete, Natalia Pablos Sanchon and many others.